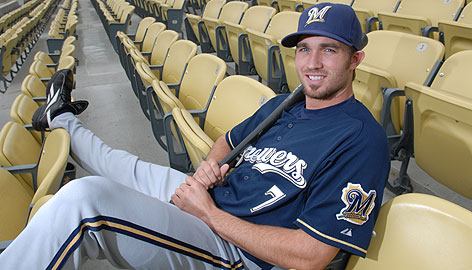 The Twins and Milwaukee Brewers
swapped players on Friday
who are heading into the 2010 season sporting huge question marks next to their names.
The Twins sent outfielder Carlos Gomez east on I-94 for shortstop
J.J. Hardy
. The former was a cornerstone of the huge Johan Santana trade two winters ago. The latter was an All-Star in 2007 who along the way fell out of favor in Milwaukee and spent a considerable part of the 2009 season in AAA.
Hardy fin
ished his fifth season with Milwaukee last year, appearing in 115 games and hitting .229/.302/.357 with 11 HR and 47 RBI. Those numbers are a far cry from his All-Star numbers of 2007, when he hit .277/.323/.463 with 30 doubles, 28 HR, and 80 RBI. His numbers were even better in 2008: .283/.343/.478 with 31 doubles, 24 HR, and 74 RBI, which makes his 2009 slump all the more puzzling.
In addition to his power numbers, he is slick in the field. Hardy has an average
Ultimate Zone Rating (UZR/150) of 11.2
, meaning that, on average, his defense is over 11 runs above average per 150 defensive games per season. UZR captures a players' defensive value based on a composite of a number of factors, including errors, range, arm strength, and double plays.
For Gomez, he'll leave Twins Territory with a big "What if?" attached to his big league r
esume. A reported five-tool prospect who was the key component to the Santana trade, Gomez hit .25/.296/.360 in his first year and showed superior defensive skills. While continuing to play stellar defense in 2009, his offensive numbers tanked and he hit .229/.287/.337 in just 315 at bats. Gomez was utilized primarily as a defensive replacement down the stretch, and his UZR/150 mark of 10.0 showed his value in the field. Still, Gomez will leave the Twins with memories of some puzzling mistakes, including his inexcusable baserunning error in Game 2 of the ALDS against the Yankees which cost the Twins a crucial run.
So, to break the trade down into positives and negatives, starting with the plus side:
Trading for Hardy means the Twins will not pursue a free agent signing of shortstop Orlando Cabrera. Although he hit impressively in the season's final 10 games, Cabrera is a player of diminishing offensive and defensive skills. He is washed-up at shortstop and turned 35 last week. While his value to the Twins was rather solid during his two-plus months here, he doesn't warrant a multiple-year free agent rish which he will likely receive from someone in the winter. Hardy is eight years younger, is cheaper, hits for more production, and is a superior defender,
It eliminates the outfield jogjam present last season. The Twins are now prepared to go to battle with Delmon Young in left, Denard Span in center, and Michael Cuddyer in right. The presence of Gomez as the fourth outfielder in this mix did not do him, or Young, any favors in their continued development. Young played his best last season when he enjoyed regular time in the lineup and the Twins are hoping he'll be able to do the same in 2010.
The acquisition of Hardy addresses a major Twins' need at shortstop. The Twins entered the 2009 season with holes in their middle infield and relief corps, and waited until the trading deadline to address these needs. With Hardy in the mix, the Twins can concentrate the rest of their offseason by addressing other needs - primarily extending Joe Mauer - such as third base and second base. The view here is that Nick Punto will be in the lineup somewhere in 2010, and that will be wherever the Twins do not make a signing among those two positions.
Not all is cream cheese with this deal:
The potential for Gomez to become a star is still there, and now he will continue his development in someplace other than Minnesota. With regular playing time and more patience, Gomez will develop as a hitter. His defense is superior, but he will drive managers crazy with his still-developing baseball skills. Milwaukee manager Ken Macha will need to be patient.

Hardy's 2009 offensive numbers may turn out to be a blip on the radar or they may signal diminishing production. Clearly, 2009 sticks out as an anomaly to his other four seasons in the Majors, and the Twins must hope that they truly are not representative of his offensive skills.
The verdict here is that it is a good move for the Twins. They clearly had a need in the middle of the diamond, and H
ardy is clearly an upgrade over what they had in 2009. Giving up Gomez is a big and bold move, but it is apparent that the Twins had neither the time nor the patience for his skills to develop. Milwaukee may be heading into rebuilding mode very soon once Prince Fielder leaves town, so they can afford to take a more deliberate approach with Gomez than the Twins. Also, it's refreshing to see Bill Smith make a move to address an obvious need now rather than wait until after the season starts.
For other reaction, check out Seth Stohs, Nick Nelson, Josh Johnson, Twins Fix, Fanatic Jack, and Baseball Digest.